Collaboration between marketing and sales (whether that's internal sales teams, advisors, franchisees, resellers, or agents) is integral to the success of a social selling program, and in our recent webinar, experts from LinkedIn and Hootsuite discussed how these two departments can work together.
Below are five ways marketing can support sales succeed in social selling. You can also watch the webinar on-demand to discover more strategies for using social media to establish trust, identify local prospects, and engage with new leads in productive ways.
1. Build confidence through education
From those who Snapchat their every meal, to those who think a "tweet" is nothing but the sound a bird makes—there's often a wide variety of social media skill sets within large organizations.
Marketing can help build confidence when it comes to social selling within an organization by providing everyone with the type of education and training best suited to them, no matter their level of experience.
Ensure your least experienced team members feel supported and comfortable with the basics of social media, and help them understand that social is here to complement traditional sales channels—not replace them. On the other end of the spectrum, the "social experts" within your organization will benefit from high level training, strategies that can help them advance their skills and align their current efforts on social media with your organization's social selling strategy.
Watch the webinar to learn how the global publishing company Wiley used a custom online training program to educate and train their employees about using social media to achieve their business goals.
2. Use campaigns to enable local conversations
Marketing and sales have the opportunity to partner together on campaigns that are effective for lead generation and have a low barrier to entry (but high value) for the customer.
Running contests and campaigns on social media that are relevant to key regions or markets will not only help achieve the marketing goal of brand awareness, it will help enable sales to reach local customers and build relationships that will help them close deals.
For example, a sweepstakes contest in a specific market could help your sales team gather valuable information about potential customers—such as their birthday, buying habits, favorite brands, or job title—via customized form fills. They could then use these details to reach out in a more credible and relevant way on social media.
3. Give sales something to say
While sales professionals and local reps are looking for relevant content to share on social that will position them as thought leaders and help them connect with new leads, marketers are equally as concerned with ensuring any content being distributed is up-to-date and on brand.
Collaborating together within a Content Library can help achieve both of these goals. Marketing can add pre-approved company and campaign assets that sales can easily access, and keep track of the top performing content.
4. Develop a daily practice for sales
Logging on without any clear direction on what to do next can make social selling overwhelming. Marketing can help integrate social media into the daily workflow of sales by offering specific examples of what to do—for example: spend 15 minutes listening to your local markets, connect with three new leads on LinkedIn, and post two pieces of content from the shared Content Library in Hootsuite.
CENTURY 21® Real Estate accomplishes this by offering specific tactics and tasks for their agents through their "21 Minutes of Social" program, prompting and guiding them to incorporate social selling strategies into their everyday routine.
5. Provide the tools to engage with customers hyper-locally
Reaching a large audience on social media is helpful for driving brand awareness and executing marketing campaigns, but your sales team needs social media to help them to generate leads in specific regions and markets.
Help your sales team reach local customers by providing tools such as the geo-targeting and geo-search functionalities in Hootsuite. Set up search streams that filter social posts about topics within a specific geographic area (a 5-mile radius for example). This will help your sales teams, agents, or franchisees make better use of social media to find potential customers to engage with and the conversations that really matter.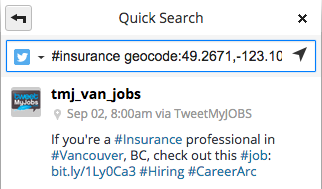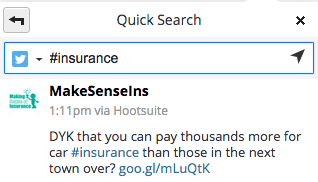 Ref: Sarah Dawley